A SIMPLE WAY OUT IS NOT ALWAYS THE MOST INTERESTING OR EDUCATIONAL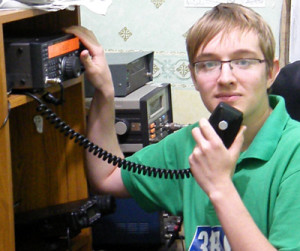 You want to talk to somebody abroad, how? Simple. Pick up your phone, or turn on your computer; right?
Wrong.
You can talk by phone or computer, but that's too simple and boring, isn't it?
As a 19-year old university student, I think Amateur Radio is a great hobby and great fun. Yes, I had to take a short multiple-choice test after revising from a book for a while. If I can pass the exam anyone can. But the hobby has given me the confidence to stand up and talk to people with ease.
I have spoken to people in 100 different countries – yes, one hundred – using 1/5 of the power it takes to light a lightbulb, and with just a small piece of plain old wire for an antenna. It's astonishing when you think that with such a simple bit of radio equipment, you can talk to someone on a tiny, remote island like Cocos in the Pacific Ocean, or someone in New Zealand. It's amazing when you play the 'name the countries' game and you beat everyone because you've spoken to somebody who lives there.
The best bit? You can meet somebody on the radio, get talking to them, send letters and photos. You may even get invited to their country, there are so many opportunities. I have friends in Russia, Australia and on the Isle of Man, to name but a few.
Mobile phones and the internet are ordinary. Stand out from the crowd: switch on to Amateur Radio and there's a whole world of people waiting and  wanting to talk to you.
*   *    *
With the above 266 fresh and advanced words Mark Dumpleton, 2E0NCG participated in the Radio Arcala Essay Contest and won the jury's vote for the best  entry.
The primary reasons for their choice were:
This comes from a 19-year old university student – a member of one of the most important demographics for recruiting into ham radio.
He immediately and with authority answers the question "why ham radio when we have the internet and cell phones?"
He did a great job of highlighting the advantages of ham radio as it relates to international friendship and good will.
He was the only one to specifically weave into his story the exchange of pictures and letters – an activity fully embraced by today's younger generation.
And, finally, he nailed the last paragraph – "Mobile phones and the internet are ordinary. Stand out from the crowd: switch onto Amateur Radio where there's a whole world of people waiting and wanting to talk to you!"
To paraphrase our winner's words, "Don't be ordinary."
*  *  *
We congratulate Mark Dumpleton, 2E0NCG with the words of Hans Blondeel Timmerman, PB2T:
Dear Mark,
Thank you for your participation in the essay contest. My congratulations to you as winner of this contest. I asked my 19-year old son Chris to pick out the five best from the entries we received and he liked your contribution best. I am glad that the other jury members have the same view. We see you as a true ambassador of Amateur Radio.
73, Hans PB2T
IARU Region 1 President
*  *  *
In an interview, Mark came up with some interesting views, making  some points on young people's terms – one of the themes of this web portal.
In his own words:
"That is fantastic news! Thank you so much! I am very proud and honoured to have won, it's really good that I can try and help youngsters into amateur radio!
I became a radio ham through my father (now M0XDX) – he had been interested in short-wave radio and listening to ham radio for around 30 years. We moved house in 2000 and at the local town fair one year we noticed a radio group – they had a radio fun day one day and me and my father went along to see what it was like. We both really enjoyed it and so both took the foundation licence over the coming months! http://www.rsgb.org/
My interests on ham radio are mainly hunting for rare contacts, DXing, and HF contesting. I have operated from the Isle of Man. I enjoy working big DXpeditions and breaking pile-ups! I also enjoy operating from the beach on my bicycle – it is fun and enjoyable and it's very easy to work DX due to the proximity of the sea!
My most exciting radio contact was one of my first – about a month after receiving my M3 (UK foundation) licence, I heard a ZS6 station calling CQ on 15m. I responded to his CQ call and had a 20 minute long chat with both him and his wife, who was also licenced. They could tell just how excited I was to speak to somebody in South Africa for the first time and they also seemed very pleased to be talking to me as I was only using 10 Watts! I received a QSL card from them both within two weeks, and it was the first QSL card I had received from outside Europe!
I have made a number of relationships through ham radio but the most valuable personal relationship would have to be with a friend in Russia called Kate. I spoke to her for the first time just after I was first licenced, and since then we have exchanged a number of emails and talk often. It is very rewarding to have relationships such as these through ham radio!
I think that it is important that as radio hams, we look to the future. As a young person, I believe I can also speak on behalf of the views of others that in a more technologically advanced world, it is important that the focus of ham radio is on new and different ways to encourage people to our hobby. Radio Arcala is one such idea, whereby a real life radio 'super-station' can be found in virtual reality."
Yours,
Mark Dumpleton 2E0NCG